15

Request for Newsletter Submissions

Please submit articles ASAP.

18
Guild Meeting

7:15 - 9PM

NCAHS
Guest Speaker: Timna Tarr
Topic: "Flying Colors Trunk Show"


Dk purple 9-patch challenge blocks due

19
Workshop
9:30AM - 12:30PM
Location TBD
Teacher: Timna Tarr
Project: Designing with Flying Colors
19
Workshop
1 - 4PM
Location TBD
Teacher: Timna Tarr
Project: Map Quilt
April 18, 2018 7:15 – 9PM Norfolk County Agricultural HS
Timna Tarr Website: www.timnatarr.com
Topic: "Trunk Show – Flying Colors"
If you love fun, colorful quilts, this program is sure to delight! During this trunk show, Timna leads the audience down the path of her quilting journey. She talks about her design and color choices, as well as the personal stories behind the quilts.
She explains, "My work is about color and small compositions. Each block in a quilt is made as its own element, independent of the other blocks. After all of the blocks are constructed, my goal is to arrange the small compositions to play off each other and work together to create a larger whole. What keeps me engaged is watching how the project changes and transforms with the addition of each color and texture.

"The resulting quilts are contemporary works, set in this time and place, which reference the rich tradition of quilt making."
Timna comes from a long line of quilters but did not begin quilting until she completed a degree in art history. She bought her first longarm in 2001 and started quilting client quilts shortly thereafter. In the years since, she has custom designed and quilted thousands of quilts. Her own nationally award-winning quilts have been seen in numerous exhibits, magazines, and books. She is in-demand as a speaker and teacher throughout the northeastern United States and is a member of her local guilds, Hands Across the Valley Quilters Guild and the Northampton Modern Quilt Guild.
April 19, 2018 9:30 AM – 12:30 PM Location TBD Fee: $35 for AM only, $65 for both

Timna Tarr
Thursday AM Workshop: Designing with Flying Colors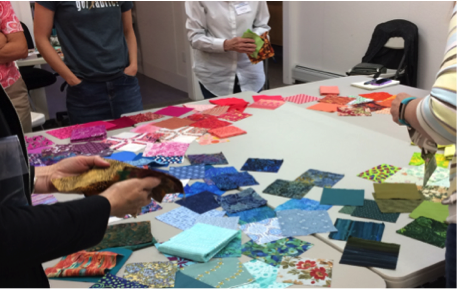 Are you stuck in a color rut? Are you afraid that you might make a color "mistake" in your quilts? In this workshop, students try out new color combinations and learn how to use color placement as a major design element. Participants should bring ten 6" squares of different fabrics from their stash. This is a NO SEW, ½ day workshop!
Click here for workshop supply list.
April 19, 2018 1 PM – 4:30 PM Location TBD Fee: $35 for PM only, $65 for both

Timna Tarr
Thursday PM Workshop: Map Quilts
In this three-hour workshop, participants begin with a paper map and learn the techniques to transform the image into a colorful, quilted wall hanging. Everyone in the group will work from the same subject, a map of Cape Cod.
Sewing is required in this ½ day workshop.
There is an additional $5 kit fee to be paid the day of the workshop.

Click here for workshop supply list.